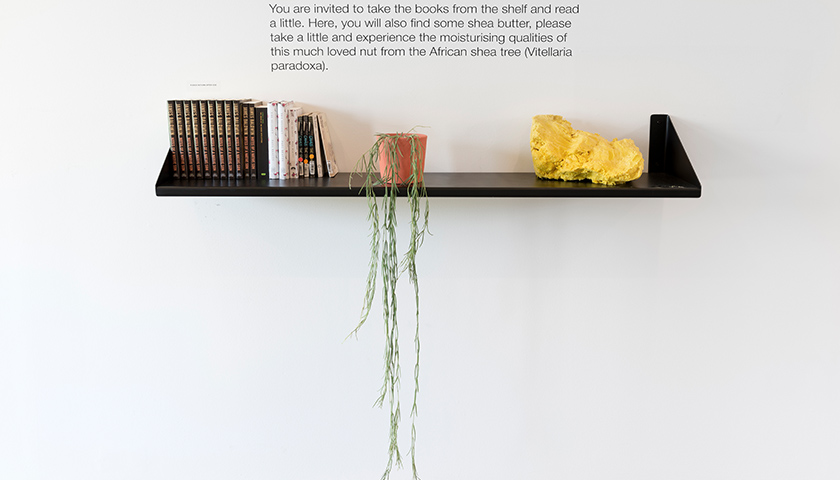 Book & Printed Matter Lab – Rashid Johnson
27 May – 10 September 2017
The Hauser & Wirth Book & Printed Matter Lab is a project devoted to exploring the important place that books and prints occupy in the practice of artists. Building upon Hauser & Wirth's curatorial and publishing activities, the Lab presents thematic installations, displays, and programming that invite reflection, creative thinking, and further conversation about the world of printed matter and its connection to artists' ideas and objectives.
This special edition of the Book & Printed Matter Lab is dedicated to the exhibition 'Rashid Johnson. Stranger'. The Lab presents a display of books from the artist's collection: 'The Stranger' by Albert Camus, 'Notes on a Native Son' by James Baldwin, 'The Crisis of the Negro Intellectual' by Harold Cruse and 'The Sellout' by Paul Beatty.
'Race, class, childhood experience, the books I found on my mother's bookshelf, the albums I found in my father's basement – these things are all part of who I am and will always be a part of my work.' Rashid Johnson
If you visit the gallery bathrooms, you will have the opportunity to wash with black soap; black soap is made from the ash of West African trees and plants and well known for its healing properties, it is now used as a beauty produce worldwide.
You are invited to take the books from the shelf and read a little. Here, you will also find some shea butter, please take a little and experience the moisturising qualities of this much loved nut from the African shea tree (Vitellaria paradoxa).
Past
Louise Bourgeois, 2 October 2016 – 1 January 2017
Elisabeth Frink, 19 January – 7 May 2017