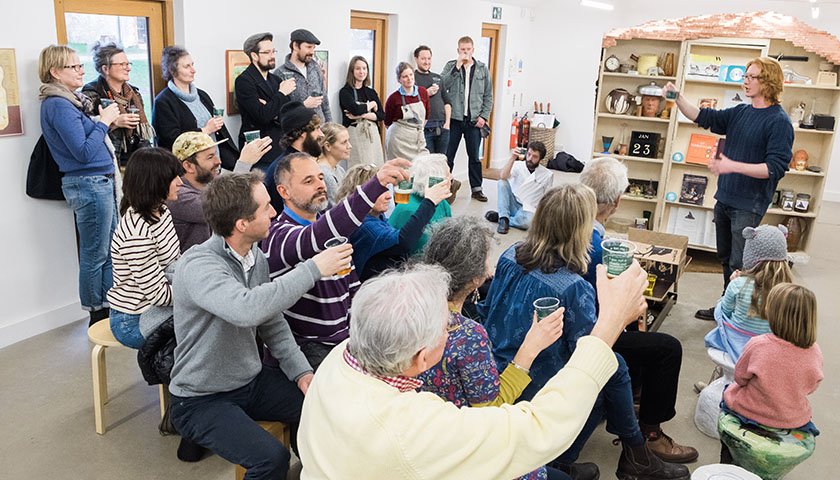 Thrifty Thursdays
Every Thursday from 25 Jan – 3 May 2018
To coincide with the forthcoming exhibition 'The Land We Live In – The Land We Left Behind' we will be hosting a series of free talks and performances every Thursday evening. Taking the exhibition as a starting point to explore themes relating to the rural, each week a different artist, writer, gardener, land-worker, academic or performer will join us. Guest speakers include Ross Aitken, Sue Clifford and Stephen Moss, as well as a special performance from 3 Acres & A Cow.
25 Jan: Charles Dowding – The Intimacies of Soil
8 Feb: Ben Carter on Truffles
15 Feb: Sue Clifford – Celebrating Nature and Culture Locally
22 Feb: Will Vaughan on Samuel Palmer
1 Mar: Ross Aitken on Dawe's Twine Works
8 Mar: 3 Acres & A Cow Performance
15 Mar: Stephen Moss on Naming Birds
22 Mar: Tim Dickens – Back to the Land
29 Mar: Julian Temperley – Apples and Cider on the Somerset Levels
5 Apr: Fernando Laposse on Sustainable Design using Native Mexican Corn
19 Apr: Paul Dovey on Durslade Farm Soil – Its Life and Secrets
26 Apr: Valentine Warner – Food and Nature
3 May: Colin Tudge
More details on how to book will be available soon.