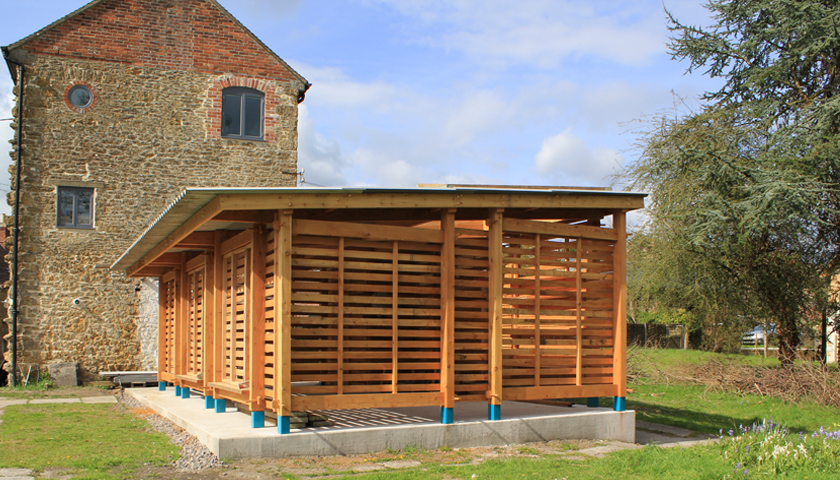 The Shed Party and Open Studios
28 June 2016, 5 – 7 pm
Hauser & Wirth Somerset is pleased to welcome you to The Shed Party, the unveiling of the winning shed design from our young architect competition hosted last Spring. The Shed Project provided an opportunity for recent architecture graduates to realise a design project from conception to completion. The competition asked for innovative, contemporary proposals for a new concept to replace an existing out-building attached to The Maltings – the studio buildings used by the gallery's artists-in-residence in Bruton town centre.
The winning proposal 'The Garden Rooms' focused on the synergy between the existing building, the garden and the proposed outbuilding. By separating the outhouse from The Maltings studio building, the proposal embraced the special characteristics of outhouses and sheds; removing one's self from usual situations and intimately connecting to the outside. The winning team included architects, Alex Bank and Sam Casswell alongside Frome-based carpenter and furniture maker, Tom Graham. Hauser & Wirth Somerset carpenters, Rob and Sam Moorse led the construction of the shed, ensuring the building was both economical and sustainable, using locally sourced materials wherever possible.
The team developed a layered architectural expression for the building, utilising a simple palette of natural materials and standard components functioning in unexpected ways. The shed does not aim to be a perfect object building or garden pavilion, but something more like the friendly structure of an allotment shed, built in an ad-hoc way over time.
In addition to the launch of 'The Garden Rooms' we will be opening up The Maltings studios throughout the evening, with work on display from current artists-in-residence, Paul Desborough and Djordje Ozbolt. The residency programme encourages artists to spend an extended period of time in Bruton, in order to draw inspiration from Durslade Farm, the local culture and the surrounding landscape. Both current artists will be in attendance and available to discuss their practice, as well as how their work has developed during the residency period.
We hope to celebrate this moment with as many members of the local community as possible, come and explore our new creative space and get to know the artists who will be working here over the coming months. The Roth Bar & Grill will be on-site serving a Summer BBQ and refreshments throughout the evening.
Address:
The Maltings, West End,
Bruton, Somerset BA10 0BB
There is no parking on site at The Maltings.
(Image: Construction view, 'The Garden Rooms', The Maltings, 2016)