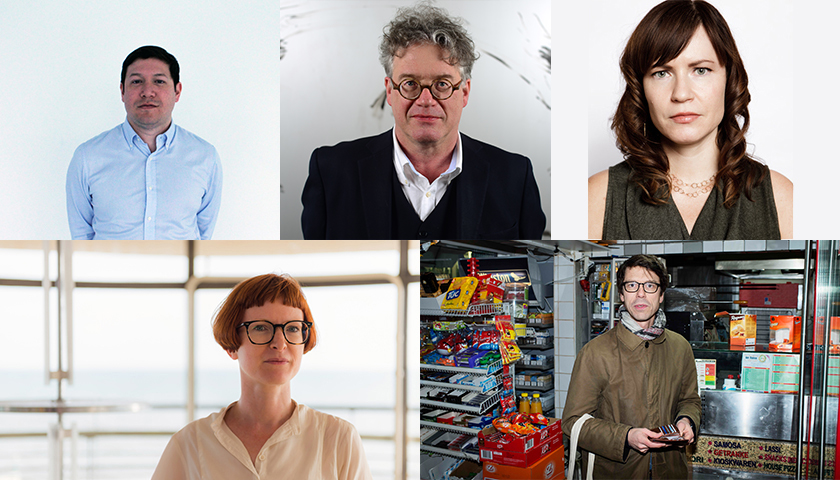 Symposium: Adventurous Curators – International Perspectives
Mon 10 July 2017, 10 am – 4 pm
Cost: £100 per person (£90 per person if booked by 10 June 2017)
Have you ever wondered how galleries earn the title of leading and pioneering? What makes a contemporary art gallery's programme progressive and relevant?
What does De La Warr Pavilion, a Grade I Listed Modernist Building situated in the seaside town of Bexhill-on-Sea in East Sussex, have in common with The New Museum in New York, Manhattan's only dedicated contemporary art museum? Does a shared approach exist between Kunsthalle Zurich, an arts centre dedicated to exhibitions and publications, and the Hammer Museum, a gallery in partnership with an educational university located in downtown Los Angeles?
These issues, and more, will be investigated in Hauser & With Somerset's first International Curatorial Symposium: 'Adventurous Curators – International Perspectives' on Monday 10 July, following our inaugural International Curatorial Residency.
Our speakers from these four diverse institutions include:
Daniel Baumann, Director, Kunsthalle Zurich
Gary Carrion-Murayari, Associate Curator, The New Museum, New York
Rosie Cooper, Head of Exhibitions, De La Warr Pavilion, UK
Anne Ellegood, Senior Curator, The Hammer Museum, Los Angeles
Jonathan Watkins, Director, Ikon Gallery, Birmingham (Chair)
The symposium will be a forum for reflection and thought-provoking discussions around the different models of contemporary art galleries. It will voice international perspectives on what makes a dynamic and enduring art gallery. Stemming from the residency, each of the four curators will explore different models of curatorial practice, cultural activism, education and more – referencing their own institutions, as well as Hauser & Wirth Somerset itself, through individual presentations. The day will conclude with a panel discussion chaired by Jonathan Watkins, Director of Ikon Gallery in Birmingham.
Programme:
10 – 11 am Arrival and coffee & private gallery viewing hour of 'Rashid Johnson. Stranger'
11 am Welcome
11.15 am Curator Keynote 1
11.45 am Curator Keynote 2
12.15 am Curator Keynote 3
12.45 am Curator Keynote 4
1.15 pm Lunch served at the Roth Bar and Grill
3 pm Introduction from chair followed by panel discussion
4 pm Tea served and opportunity to revisit the exhibition
CLICK HERE to download details for getting to / from the symposium.
About the Speakers:
Daniel Baumann
Baumann is the director of Kunsthalle Zürich. He was co-curator of the 2013 Carnegie International in Pittsburgh, worked many years for the Adolf Wölfli Foundation at Museum of Fine Arts in Bern, and co-founded the project space New Jersey in Basel together with Tobias Madison, Emanuel Rossetti and Dan Solbach. In 2004, he started an ongoing exhibition series in Tbilisi, Georgia, and is a regular contributor to magazines such as Artforum, Frieze, Spike, et al.
Gary Carrion-Murayari
Carrion-Murayari is the Kraus Family Curator at the New Museum. Since joining the staff in 2010, Carrion-Murayari has organised exhibitions by artists including Phyllida Barlow, Nathalie Djurberg, Ellen Gallagher, Haroon Mirza, Jim Shaw, and Raymond Pettibon. He has also co-curated group exhibitions such as 'Ghosts in the Machine,' (2012) 'NYC 1993' (2013) and 'Here and Elsewhere' (2014) and the "The Equilibrists" (at the Benaki Museum in Athens). Carrion-Murayari previously worked at the Whitney Museum of American Art where he co-curated the 2010 Whitney Biennial and numerous other exhibitions. He is currently co-curating the next edition of the New Museum Triennial which will open in 2018.
Rosie Cooper
Cooper is Head of Exhibitions at the De La Warr Pavilion. Before that, she was Head of Programmes at Liverpool Biennial, presenting new commissions by 44 international artists across 21 sites in 2016. She was commissioning editor of the exhibition's accompanying book, The Two-Sided Lake (Liverpool University Press, 2016), and for the 2014 edition, she curated the exhibition about James McNeil Whistler with Mai Abu ElDahab. From 2009-11 she curated Barbican Art Gallery's public programme. With William Cobbing, she organised Bob Jubile, a series of events, displays and publications exploring the legacy of poet, pedagogue and organiser Bob Cobbing, culminating in Book (Occasional Papers, 2015). With Ariella Yedgar, she curates www.outoffocus.biz
Anne Ellegood
Ellegood is the Senior Curator at the Hammer Museum. In addition to organizing exhibitions and building the collection, she oversees the Hammer Projects series and the Public Engagement program. Prior to joining the Hammer in 2009, she was Curator of Contemporary Art at the Hirshhorn Museum & Sculpture Garden in Washington D.C. and Associate Curator at the New Museum of Contemporary Art. She recently organised the first North American retrospective of the work of Jimmie Durham, which opened at the Hammer in January 2017, and is traveling to the Walker Art Center, the Whitney Museum of American Art, and the Remai Modern in Saskatoon. Recent group exhibitions include Take It or Leave It: Institution, Image, Ideology (2014); Made in L.A. 2012, the Hammer's inaugural biennial of LA-based artists; and All of this and nothing (2011). Since joining the Hammer, she has organized numerous solo exhibitions, including those with Kevin Beasley, Latifah Echakhch, Shannon Ebner, Charles Gaines, My Barbarian, Kelly Nipper, John Outterbridge, Pedro Reyes, Francis Upritchard, Sara VanDerBeek, and Lily van der Stokker. Ellegood is currently co-organizing, with Erin Christovale, the Hammer's next biennial of Los Angeles-based artists for summer 2018.
Jonathan Watkins
Jonathan Watkins has been Director of Ikon Gallery since 1999. Previously he was Curator of the Serpentine Gallery (1995-1997) and Director of Chisenhale Gallery (1990-1995). He has curated a number of large international exhibitions including the Biennale of Sydney (1998), Facts of Life: Contemporary Japanese Art (Hayward Gallery, London 2001), Quotidiana (Castello di Rivoli, Turin 1999, Tate Triennial (2003), Shanghai Biennale (2006), Sharjah Biennial (2007), Negotiations (Today Art Museum, Beijing 2010) and the Guangzhou Triennial (2012). He was on the curatorial team for Europarte (Venice Biennale, 1997), Milano Europa 2000, (Palazzo di Triennale, Milan 2000), and Riwaq (Palestinian Biennial 2007). He curated the Iraqi Pavilion for the Venice Biennale 2013. Watkins has written extensively on contemporary art. Recent essays have focused on the work of Giuseppe Penone, Martin Creed, Semyon Faibisovich, Yang Zhenzhong, Noguchi Rika, Caro Niederer, Beat Streuli and Cornelia Parker. He was the author of the Phaidon monograph on Japanese artist On Kawara.
Cost of symposium £100 per person. Book your place by 10 June 2017 to take advantage of our reduced ticket price at £90 per person. For all enquiries please contact Dea Vanagan: dea@hauserwirth.com