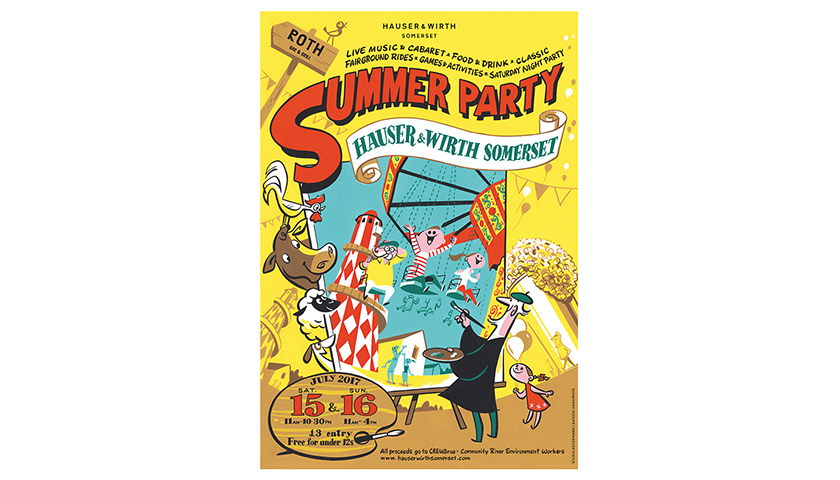 Summer Party
Sat 15 Jul 2017, 11 am – 10.30 pm & Sun 16 Jul 2017, 11 am – 4 pm
This July, Hauser & Wirth Somerset will host our Summer Party extravaganza. This weekend of festivities will unite the gallery, restaurant and farm in a host of family-orientated activities, displays and competitions in true country fair tradition, with vintage fairground rides, circus skills workshops, face painting and art and craft workshops. This year we will have some wonderful children's entertainers, including the Flying Seagull Project, who will provide a varied and rich programme of music, dance and games across both days, and Damian Surr, alias Ginger Magic, who will be interacting with guests, amazing them with his mind boggling magic tricks and illusions.
Join us on Saturday from 4 pm in the marquee for a diverse musical line-up, with performances from Wincanton Youth Theatre Group, followed by local band, The Johnsons and finishing with the extraordinary, Curious Little Big Band, who are guaranteed to get the audience moving with much jollity along the way. DJ Matthew Hooberman will be keeping the dance floor full between the acts. Our day will conclude with a celebratory firework display.
Celebrations and activities continue all day on Sunday with music from local performers starting at 11 am in the marquee.
Roth Bar & Grill will serve a seasonal BBQ feast throughout both days, all sourced from Durslade Farm, our Kitchen Garden and surrounding orchards. We've also invited along some of our favourite local producers, including The Bakemonger, Mendip Moments Ice Cream, Dosa Tom, The Crumpeteers and The Good Street Food Company.
Rashid Johnson's solo exhibition, 'Stranger' will be open as normal throughout both days from 10 am – 5 pm. Roth Bar & Grill will be taking reservations for dinner from 6 pm on Saturday evening only. The outdoor kitchen will be running from 12 pm all weekend, including Saturday evening.
All of our entrance money, £3 per adult per day, children are free, will go to the newly formed Brue CREW community project, whose aim is to restore the natural balance of our stretch of the river Brue as a haven for wildlife, and to promote Bruton's riverside as somewhere relaxing to spend time with nature, connecting our historic town centre with footpaths upstream and downstream. This volunteer group of families is working under the guidance of Somerset Wildlife Trust and the Wild Trout Trust to enhance the river that gave Bruton its name, for the enjoyment of everyone who lives in or visits our town.
We advise all local guests to walk to the gallery.
Please note, that as part of our Summer Party event, we will be having a 15 minute firework display at 10.15 pm on Saturday 15 July. This will be held in the field adjacent to the gallery on Dropping Lane, Bruton. We hope that advance notice allows you to ensure animals are kept safe and people are aware. We do hope that you are able to join us to celebrate the event!