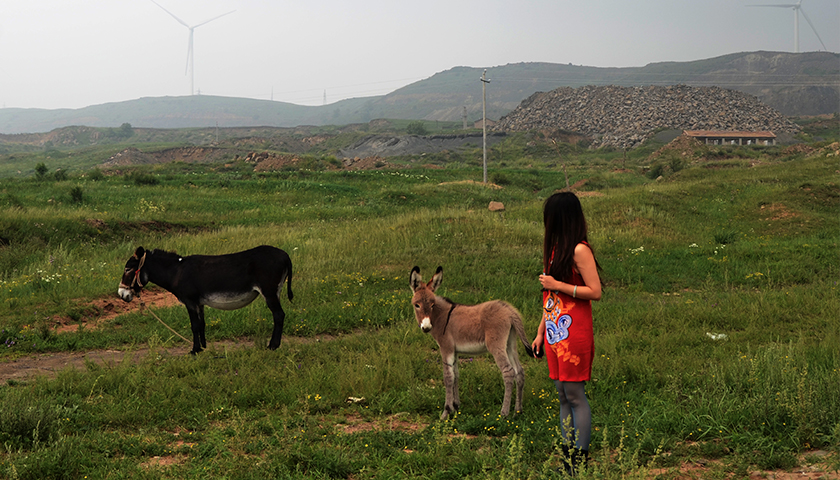 Sichong Xie: 'Walking with the Disappeared' Performance
Sat 29 Jul 2017, 1.30 – 4.30 pm
Hauser & Wirth Somerset is delighted to host a special performance by Sichong Xie, the inaugural resident artist from the Hauser & Wirth Exchange Residency for Post-MFA Students.
Titled 'Walking with the Disappeared', Sichong Xie's work invites viewers to examine an abstract conversation between three people (her grandfather, her grandmother and herself) and two generations through a long distance relationship. Through these actions, she hopes to establish new connections between people and places, as a form of "exercising" memory, which in turn aims to produce new identities.
Central to the performance is her attempt to recreate a particular donkey illustration her grandfather drew – "Ghost Donkey" – representing the Chinese government. She draws this drawing with hope to ignite an impossible conversation between her grandparents; the past and future; memories and personal identities. During the Cultural Revolution her grandfather was punished for creating the drawing, and the illustration was destroyed during that time by the Chinese government.
The endurance performance will last about 3 hours, be filmed and take place in the Oudolf Field. It will also feature performers Jinglin Liao & Dan Jin. The audience is encouraged to walk around the performance (experiencing it from all angles) and can choose to either sit through the entire performance, or for as long as they wish and return later.
The Hauser & Wirth Exchange Residency is for Post-MFA Students from The California Institute for the Arts (CalArts) and Bath School of Art and Design, Bath Spa University. The two educational institutions are local to Hauser & Wirth Los Angeles and Hauser & Wirth Somerset respectively. The initiative is designed to support emerging artists affiliated with these universities by offering them locations to live and work for an intensive short-term period, and encourages independent work while providing support through contact with academics, curators and artists.
This is a free event, no booking necessary.