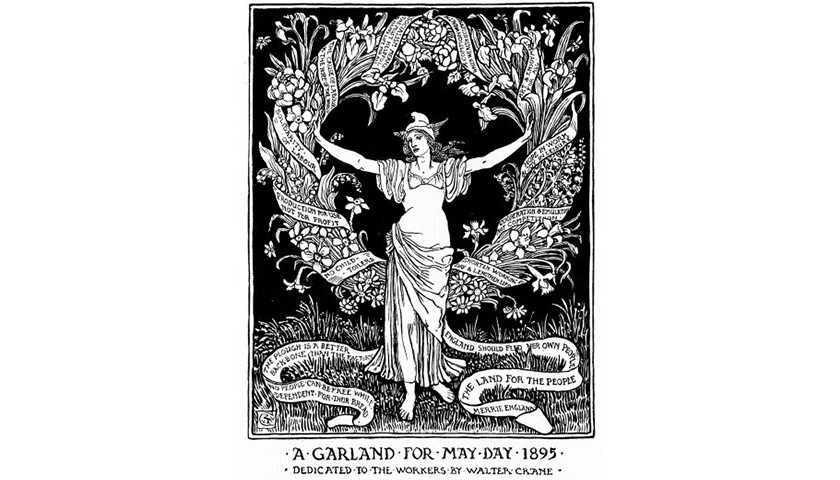 A Garland for May Day
Sat 5 May 2018, 1.30 pm & 4.30 pm
Hauser & Wirth Somerset is delighted to host a special performance by artist Fernando García-Dory, who has several works in current exhibition 'The Land We Live In – The Land We Left Behind'.
'A Garland for May Day' will activate the Goat Pavilion that the artist and Hayatsu Architects erected for the exhibition, in a ceremony to welcome the return of Spring. Inspired by the Arts & Crafts illustrator and ardent socialist, Walter Crane and existing conflicting visions of the 'Merry England', the performance will unravel notions of rurality, the invention of tradition, conservatism, and resistance. This participatory performance, made in collaboration with members of the local community and guests, will invite the audience to join dancers and musicians to move, twist and turn around the Pavilion in praise of the seasonal cycle, renewal and social change.
The performance will be in the Farmyard at 1.30pm and 4.30pm, and will be approximately 20 minutes in duration.
This is a free, drop-in event.


Fernando García-Dory's (b. 1978) work engages specifically with the relationship between culture and nature now, as manifested in multiple contexts, from landscape and the rural, to desires and expectations concerned with identity, through to (global) crisis, utopia and the potential for social change. He studied Fine Arts and Rural Sociology, and is now preparing his PhD on Agroecology. Interested in the harmonic complexity of biological forms and processes, his work addresses connections and cooperation, from microorganisms to social systems, and from traditional art languages such as drawing to collaborative agroecological projects, actions, and cooperatives.

Concept: Fernando García-Dory
Dancers: Linzy Na Nakorn, Mary Eddowes, Katherine Hall, Crystal Zilwood,
Narrator: Anthony Nason
Singer: Beatrice Loft Schulz
Violinist: Janos Lang
Lyrics edited by Chris Fitte Wassilak