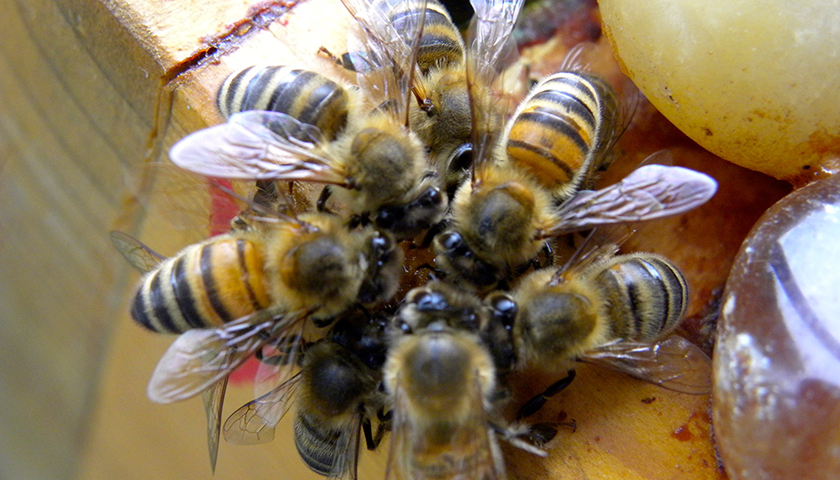 Day of the Bee
Sat 22 Apr 2017, 10 am – 4 pm
This Spring, Hauser & Wirth Somerset is pleased to present, 'Day of the Bee' a series of talks and discussions that will explore the world of bees, from the historical practices of beekeeping to the medicinal properties of honey. Join us for a day of talks, film screenings, honey tastings and much more, that will draw attention to the importance of bees, beekeeping, bee conservation and biodiversity.
The programme will include sessions led by leading beekeepers and bee enthusiasts, including Paul Dovey, Durslade Farm Manager; Phil Chandler, beekeeper and author; Brigit Strawbridge, bee advocate and wildlife gardener; Jonathan Powell, Trustee of the Natural Beekeeping Trust and founding member of Tree Beekeeping International; and Kamaldeep Sidhu, Medical Herbalist.
There will be an educational resource area available on the day, including a display of handmade hives by Joe Leighton-Trew of 'Trew Hives' and a 'Sun Hive' by Rachel Hanney of The Natural Bee Keeping Trust. Multi-disciplinary artist, Alex Hirtzel will also show a selection of intricate ultra-violet botanical drawings made from a bees-eye view.
All events are free to attend, however advanced booking is recommended. Please see below details on each session and how to book.
Please note: These events have now reached full capacity. However, there may be a limited number of spaces available on the day, on a first come first serve basis. Please enquire at Front Desk on the day.
Programme
10 – 11 am
Bees at Durslade
Paul Dovey, Durslade Farm Manager and Millie Uhlein, beekeeper will talk about Durslade Farm's bee hives. This session will include a visit to the hives located at the top of Oudolf Field, and an opportunity to sample some of Durslade's delicious honey.
11 am – 12 pm
Pollination and the Importance of Bee Diversity
Join local bee advocate and wildlife gardener Brigit Strawbridge for a session on the importance of bee diversity, with a particular focus on bumblebees, their lifecycle and how they are able to pollinate certain plants that other bees cannot access. Brigit will also lead a 'bee walk' through the garden 'Oudolf Field', looking at the variety of bumblebee and solitary bee species visiting the garden.
1 – 2 pm
Balanced Beekeeping with Phil Chandler
Phil Chandler will lead a session on 'balanced beekeeping' in top bar hives: a simple, practical way to have healthy and happy bees in your garden, with the possibility of your own honey harvest, but without the cost and complications associated with conventional beekeeping.
Phil is well known in beekeeping, as an advocate of bee-friendly practices and 'natural' methods. He has taught and lectured internationally and has written many articles and books on the subject, the best known being 'The Barefoot Beekeeper' (2007).
2 – 3 pm
Honey: Its Health Benefits and Uses in Medicine with Kamaldeep Sidhu
Medical Herbalist, Kamaldeep Sidhu will share some insights about the medicinal benefits of honey, as well as explaining the role of the Medical Herbalist and sharing some simple recipes that anyone can use at home to treat common infections. Kamaldeep is a Medical Herbalist practising in Gloucestershire and is a member of the National Institute of Medical Herbalists. As well as using plant remedies based on current research, Kamaldeep is passionate about how we can use food and exercise to prevent disease and enhance our health and wellbeing.
3 – 4 pm
Learning from Free Wild Bees and Tree Beekeeping with Jonathan Powell
Jonathan Powell, a beekeeper since early childhood, has an important message for us: beekeeping, as commonly practiced today, is not helpful to the bees. Jonathan will talk about the way in which we can all help the bees by our interest in their life habits and needs. Jonathan will tell us about re-wilding the honeybee in the historical context of tree beekeeping, an ancient tradition finding much new interest.
Jonathan is a trustee of the Natural Beekeeping Trust and a founding member of Tree Beekeeping International. He is the author of The Tree Beekeeping Field Guide, a concise introduction to this important topic.
Photo: Heidi Herrman. Courtesy of the Natural Beekeeping Trust