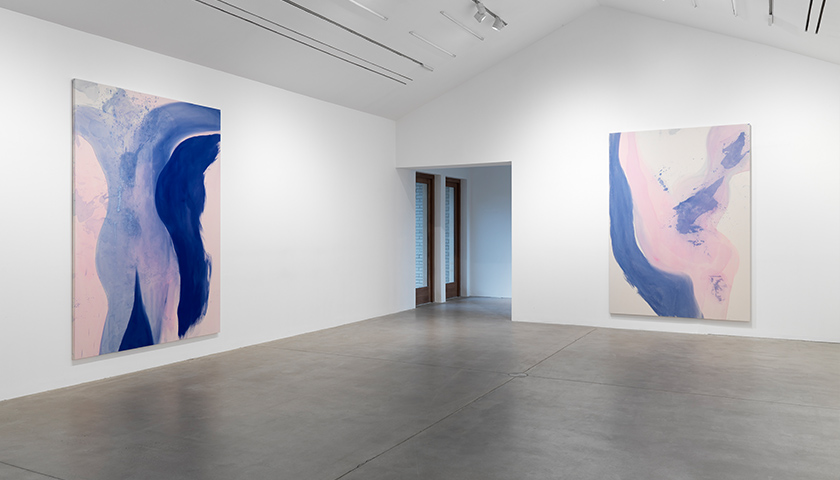 Private view: Autumn Exhibitions
Fri 29 Sep 2017, 6 – 8 pm
Please join us for a private view to celebrate the opening of two new exhibitions this Autumn, 'Josephsohn / Märkli. A Conjunction' and 'Rita Ackermann. Turning Air Blue'.
'Josephsohn / Märkli. A Conjunction' is an exhibition of works by the late Swiss sculptor Josephsohn (1920 – 2012), shown alongside the architectural drawings of his long-time friend, Swiss architect Peter Märkli. Taking its name from "La Congiunta", an isolated museum designed by Märkli to house a number of Josephsohn's bronze sculptures, the exhibition examines the intense and longstanding collaboration between these two powerful creative minds, shining a spotlight on the elusive practice of each, and highlighting what two very different disciplines – sculpture and architecture – can offer the other as insight, and about the generosity and humanity of such an exchange.
The second exhibition titled 'Turning Air Blue' is an exhibition of new works by Hungarian born, New York-based artist Rita Ackermann. 'Turning Air Blue' extends through two galleries and doubles as an organic continuation of Somerset's rural setting. The exhibition starts in the Rhoades gallery, which features a body of work titled The Coronation and Massacre of Love. The paintings here are large-scale compositions on canvas primed with chalkboard paint, on which washes of white chalk and green and blue pigments have been applied. These Abstract Expressionist-like works are reminiscent of actual chalkboards in a classroom, covered with unintentional erasures and marks, yet they have been conceptually executed by multiple deletions of figurative drawings and landscapes. By way of these gestures, the revenant outline of the erased drawings often emerges into the foreground. The final picture is a record of these movements.
The exhibition continues into the Bourgeois gallery, which comprises two bodies of work: Turning Air Blue and Nudes. The paintings titled Turning Air Blue are large-scale pigment paintings on canvas where translucent figures suggest a feminine shape. These works derive from the Fire by Days series – paintings inspired by accident being the true enemy of intention – which formed Ackermann's introductory exhibition at Hauser & Wirth, London, in 2012. The palette of these new works is rendered by flesh tones shading into blue. The large paintings have an airy lightness about them, contrasting with the much smaller Nudes. While these smaller framed oils bear a similar pigmentation, they are painted more thickly to evoke the physicality of the female body.
This is a free event, no booking necessary.

Installation view, 'Rita Ackerman. Turning Air Blue', Hauser & Wirth Somerset, 2017
© Rita Ackermann. Photo: Ken Adlard